The first race of the season was yesterday at Kemora. The whole team especially Teemu was really excited to put the new engine to a test. Unfortunately the problems started already on Thursday evening.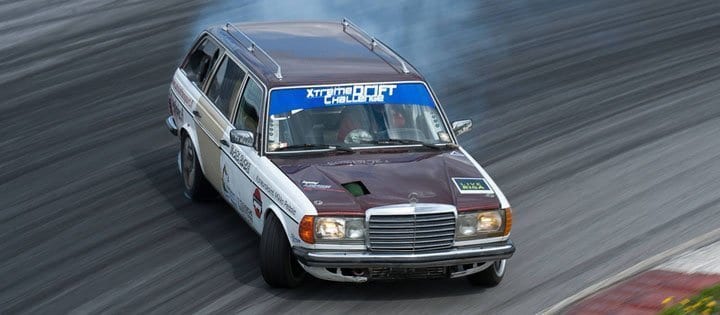 Picture by Janne Tuikka
The new AMG gearbox was fitted on Thursday and later the same day when Teemu was test-driving it, a BIG oil leak appeared from the gearbox. With no obvious reason to the leakage (the oil isn't circulating correctly) the gearbox was picked up by the gearbox-guys from Soini and they are now trying to find out what's wrong with it. But the gearbox was amazing until it broke, so we're really looking forward to get that gearbox in racing use later on when it is fixed. Well Teemu put the old gearbox back on Thursday night, the tremec had to last one more time.
Then on our way to the race the police stopped us and demanded us to leave our MB Vito at the MOT-office because someone had forgot to take it to a MOT-inspection for some time. We had to hook the drifter to the Sprinter and the whole pit-crew (6 persons) fitted in the cabin, luckily it has room for about 9, then we finally arrived at Kemora, and on time.
In Kemora, a new problem appared, a BIG lack of power. We wouldn't lie much if we claim that the winner had about 400hp more than us. We think it is a bad diesel pump causing the biggest problems but we don't know for sure yet. We will try to find a new one to the next race and I am quite sure it will solve the power problems, you can see it doesn't even produce any black smoke anymore so it probably gets too little diesel.
Thanks to Teemus amazing driving he still managed to "win" a third place in the race. The team was also in a good mood driving home from Kemora it was an amazing first race indeed, there were no problems with the turbo and the compressor witch is great and the potential of the car is huge once all the pieces come together right.
Now Teemu and Anton are going to take out the engine and check that everything is alright , mount the AMG box once we get it back and mount a new diesel pump. Patti promised to fix the crew car with a new cylinder gasket, new seats and a table in the back. I will try to make a new video of the material from Kemora If Patti and I got enough spare time it may be ready next Sunday but no promises.