Level: Easy, but requires knowledge about engines.
300-400 horsepowers on for this engine is still small numbers and the stock internals can handle it very well, as long as you get some ARP bolts for your connecting rods. 300-400hp is one step above "software–only" tuning and you will have to replace some parts. Just as any modifications on this engine, the software is the most important part, if you don't get that right you will not have horsepower or torque and worse case, you might break your engine.
Parts that need to be replaced
Connecting rod bolts
Camshafts (optional, for better torque)
Engine
The stock intercooler has plastic parts and it will pop at 2 bars of boost (about 29psi), so you will need to replace that with one that is fully aluminium. You should aim to get one as big as possible but for horsepowers up to 400 something like 140x550x60mm is big enough. The stock internals will handle this kind of power well but you should replace the stock connecting rod bolts with ARP ones to avoid problems.
To feed more air to the engine you will need an updated turbo, the stock hybrid turbo is good but the compressor should be made bigger, this way you can get up to 400hp, we also have plenty of turbos available, you can contact us on email if you desire to buy one from us.
The stock high pressure pump will word up to 350hp and the 400cdi up to 450hp. Stock injectors will be enough up to 300hp, from us you can purchase street injectors (up to 80hp per cylinder), these are made for the stock piston but can also be modified if you decide to upgrade later.
Turbo
Your best bet here is to update to an updated hybrid turbo, we sell these too. Check it out below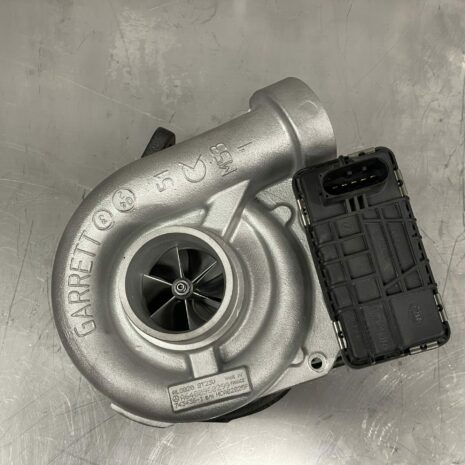 EASY SOLUTION! Refurbished and updated hybrid turbo from 320cdi engine. The turbo has an updated compressor and turbine wheels. Can produce about 370hp. These turbos are manufactured from Garrett original turbocharger. If the product is on backorder, it will take 3-4 weeks before delivery. We offer 100€ for your stock core, even if the turbo…
Engine management
When you purchase injectors from us, every set is individually measured. These measurements should be taken into account when you make software, you can choose to buy the software for you car for a reduced price when you order your injectors. For 300-400hp you also need to get a 4 bar map sensor. This sensor is plug-and-play so no hassle there.
Drivetrain
Depending on your vehicle some changes might be necessary if you drive like a maniac. Used with care, 400hp should however not be any problem for your drivetrain.