Mercedes Benz w203.5 Black Edition 2001/2012/2016
This build started out with Jesses persistence on getting the CDI engine working properly. Once Jesse had us believing in the development of the om648 engine, we had enough motivation to start facelifting the old C Class.
Our first experiences with fibreglass
Some of us had sworn to not get involved with fibreglass, then we sat down one night in december at Teemus place looking at pictures of w204 Black Editions. We just loved the way it looked. Unfortunately we could not find any bodykit for the wagon and how would we ever have time to finish a new chassis with rollcage and all? Then someone said it will fit the 203 like a charm. The same night we ordered the w204 Black Edition Coupe bodykit.
The front was kind of a good fit, hood sits a little higher and the whole front is a little wider than before, we needed to extend the flares a little, this was done with parts of the old car and fibreglass.
Engine
Turbo system
This is no invention of us, for example BMW and Mercedes use the same technique in some of their engines. The exhaust flap is pressure operated and opens when boost pressure reaches 1,5bar.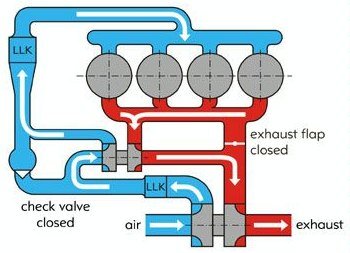 Specs
Mercedes Benz w203 facelifted to 2012 w204 Black Edition
Engine – OM648, Custom pistons, Custom injectors, Holset Hx50 Billet + Holset HE221W Billet
Transmission TEXracing T101, 4 speed manual gearbox
Chassis – Custom front suspension with 65-70° Steering angle and K-Sport coilovers
Wheels – 18″
Tyres – Round, black, wide, grippy
Interior – Gauges for oil pressure, boost pressure, exhaust pressure, roll cage, steering wheel, sparco seats
More information here: