Black Smoke Racing was founded in 2009 when Teemu Peltola for the first time tried out drifting, the first season was driven only in Finland and in X-treme drift challenge. At first it was all about proving the other competitors that you really can succeed driving a diesel car. The idea was an immediate success. Teemu turned out to be an outstanding driver and won the first championship ever attended. His tough style of driving caught the other competitors eye. Unfortunately Teemu crashed the MB 190D (w201) in the finals.
The season of 2010 was an even bigger success with a new car. Several big events were attended abroad, (for example Estonia, Sweden, Norway, Latvia and so on). 2010 was also the year when we started filming these events and publishing the videos on Youtube. The videos got a lot of attention and were published on several very big websites worldwide (topgear.com, Autoblog.com, driftworks.com, and so on). The viewers grew fast this year and by the end of 2010 we had 200 000 views merely on our own videos. This year Teemu took the third place in the x­‐treme pro series championship 2010. A Facebook-­‐group and a website was also launched this year, which now have lot of fans.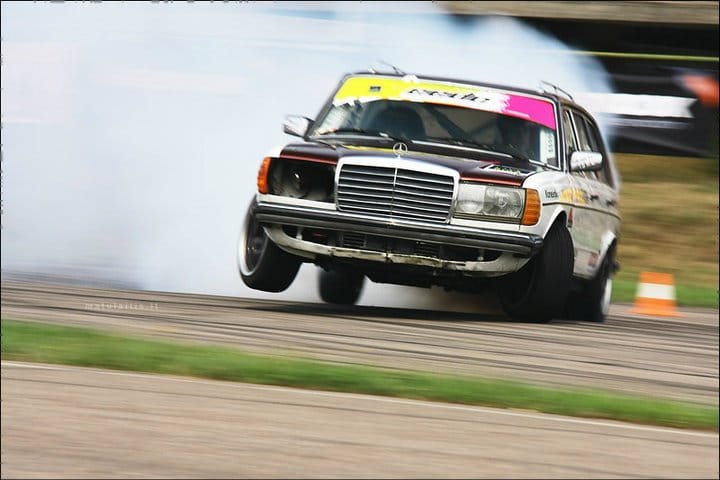 The second car
The car on the picture above (w123) was first made 2010 and reused in both 2011 and 2012.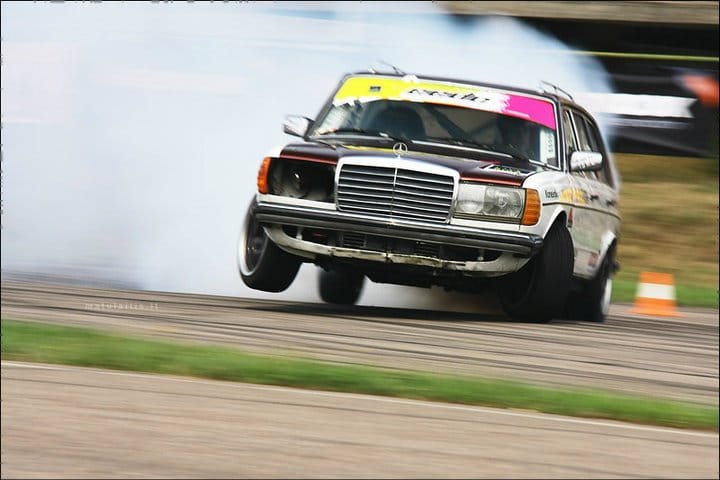 2012 was legendary, we met a lot of interesting people and this was also the first year with Monster energy. Videos exist of almost every event, check them out on blacksmoketube.
Attended events and some results from 2012;
DHB – Denmark 1-3 June – Second place
NEZ Round 1 – Gardermoen, Norway 8-10 june
Gatebil – Mantorp 15 – 17 June – 7th position
Gothenburg – Road to gatebil, City Ring – july
Gatebil – Rudskogen – july
Bilsport Action Meet – aug
Epua Drift – Seinäjoki, Finland 25.8 – VICTORY
NEZ Round 2 – Riga, Latvia, top 16
2013 – New car – New transport vehicle – New possibilities!
Short sum-up of 2013.
In 2013, we started out at Kemora, testing the new car, transmission problems and a broken driveshaft Teemu competed in Time attack :D. After Kemora we did an epic trip all the way to Wales and back. First Denmark and DHB, which Teemu managed to win! After this we headed to Wales for BDC rd. 1, again transmission problems. Teemu fell out in top 8 when the car would not shift up. Next up was Gatebil, Mantorp in Sweden. We did not get much track time, the engine was not behaving well…
Follow us on Facebook, Twitter, Instagram and our website for updates!
2015 – OM648 and CDI!
  Read more on the blog!